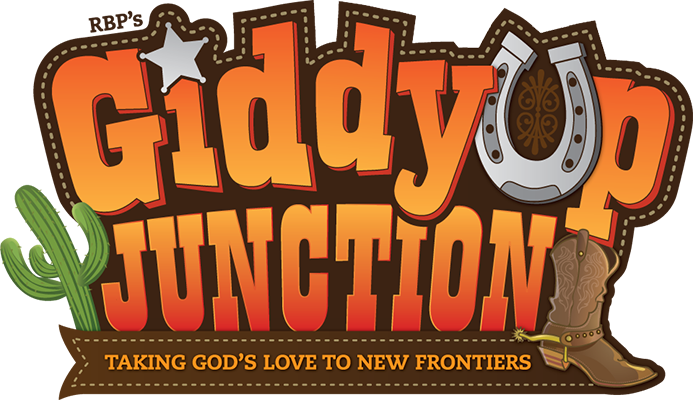 Today, as we continue my 2019
VBS reviews, we are looking at
Giddy-up Junction
from Regular Baptist Press!
RBP did a great job with the content and substance of this VBS resource - if you are not familiar with their materials and have never taken a close look at them in the past, this year is a great year to consider if
Giddy-up Junction is a good "fit" for your Children's Ministry!
Giddy-up Junction
Regular Baptist Press
http://2019.rbpvbs.org/
Price - $109.00 or $151.97
At the Junction: God Shows His Love - Luke 23:33–46; 24:1–12; Acts 1:1–12; 2 -

The Good News changes people's lives.

Down the Trail: God Loves All People - Acts 10 -

The Good News is for everyone.

Over the Plain: God Loves Individuals - Acts 8:1–6, 26–40 -

The Good News is for you.

To Be Wanted: God Loves an Enemy - Acts 9:1–19; 22:4–16; 26:9–18 -

The Good News can reach anyone.

To New Frontiers: God's Love Brings Joy - Acts 16:6–40 -

The Good News can bring joy—anytime!
Setting – Giddy-up Junction

is a western-themed VBS where kids spin lassos, mine for gold, and ride horses, complete with an Old West town, cacti, and covered wagons.
Message – "Children will learn about the good news of God's love - the gospel - going to new frontiers in the book of Acts. They will respond to God's love and learn how they are able to take it to new frontiers today."
Focus – Evangelism, Bible content and Application

Strengths –
As I would expect, Giddy-up Junction has a strong evangelistic emphasis, solid Bible content and great information on how to reach VBS families after VBS is over!

Excellent info in the Director's book to help you set goals and count-down for an effective VBS outreach and ministry to the children in your church and community.

Provides a variety of recruiting and training information/resources.

Solid information about leading a child to Jesus - appreciate the caution to help avoid the "herd instinct" where children respond because others did.

Very complete director's book – especially appreciate the info on engaging children with special needs and the thorough way it covers screening volunteers and safety along with volunteer dedication and appreciation!

I'm happy to see creative engagement of the children during the Bible adventure portion of each day's lesson again this year for all the ages!

I'm very happy to see teachers and children reading from the Bible during most of the Bible lessons for the Middler and Junior ages!

The activities connect well and do a good job of reinforcing the daily point!

Strong, intentional focus on providing children the opportunity to make the decision to get saved in each day's lesson.

I still would like to see a bit more "pep" and possibly more original music – but you have the option to use music with a piano track or instrumental track again.

Great craft book with an abundance of affordable ideas
Would like to see –
Ideas to help children serve in their own communities.

There are far, far, far too many gadgets and items in this VBS which were made in China. I have significant concerns about child/slave labor for anything made in China and would like to see RBP source these items from other places.

Zipper tags or something children could take home each day to remind them of the event they learned and what they are going to do to live it.

Resources for churches which do not use the classroom model – Bible lessons in a book for a Bible lesson station and a station with object lessons/science projects/activities – this would provide more options and make the materials easier for churches to use.

More excitement in the opening and closing – this is a great place for object lessons/science projects and gives you a big way to once again make your point before children leave for the day.

I'd like to see a more intentional and stronger focus on specific things for children to go and "do" before they return the next day to live what they learned.
Regular Baptist Press says, "
Every year we place a strong emphasis on the salvation message. This year is no different!
RBP VBS is a fully integrated, gospel-centered program which weaves the salvation message into each lesson! Our programs are built around a solid theological framework and motivated by a desire to teach Bible truths using age-appropriate methods. VBS could be your biggest evangelistic outreach event of the year!
"
As I would expect from Regular Baptist Press, the Bible content is solid and I'm very happy to once again see an intentional focus on helping children who are already Christians learn how to live what they learn in their everyday lives!
If you are looking for a resource to use in a park or other outdoor location,
Giddy-up Junction
is a great pick as it is easy to set up and decorate outside and the content is solid.