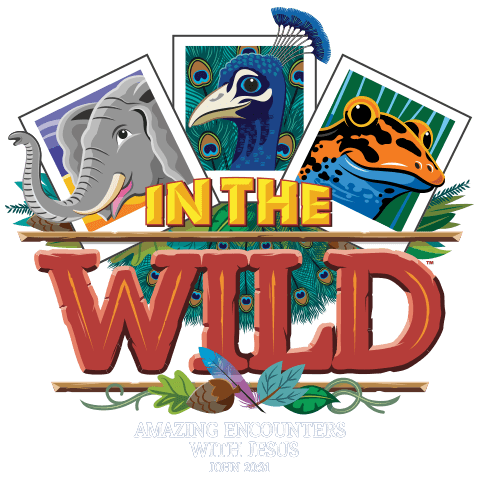 Today I'm happy to share another of my VBS
resources for 2019; this time it is, In the Wild from LifeWay! Take a look and consider if
In the Wild
i
s a good "fit" for your Children's Ministry!
https://vbs.lifeway.com/
Price - Jump Start Kit - $35.99; Preschool Starter Kit - $99.99; Elementary Starter Kit - $99.99
Encounter in the Temple - Luke 2:41-52

Encounter at the River - Matthew 3:1-17

Encounter on the Water - Matthew 14:22-33

Encounter at the Tomb – John 20:1-18

Encounter on the Road - Luke 24:13-35
Setting –
Throw on your camera strap and buckle your seatbelt. VBS 2019 takes you on a wild adventure—with elephants and egrets, polar bears and penguins, cockatoos and crocodiles.
Message/Theme –

As you seek out exotic animals, you'll also find snapshots of real-life encounters with Jesus in Scripture.
Focus – Evangelism, Content and Application

Strengths –
I am happy to see the small group time for each pre-teen Bible lesson which engages children in thinking about, reading and reviewing the Bible event for the day.

As I would expect, In the Wild has a strong evangelistic emphasis, excellent local mission project and solid Bible teaching.

Excellent resources for taking your VBS out of your church and into your community with Backyard Kid's Club!

Excellent focus on VBS and prayer - info on how to develop your prayer strategies and prayer team.

Excellent resources for children with special needs!

I especially am happy to find excellent information on how to reach VBS families after VBS is over! I really love the "Connect in one hour" plan – great way to involve everyone in VBS in having a part with the follow up!

I found the craft book has a nice variety of craft options made with items you gather - some of these are excellent!
Would like to see –
I personally liked the way the pre-teen lessons engaged the children in discovering what God's Word says, talking it over, focus on understanding it and encouragement for them to live it. I would use this age level for all the ages - just tweek a bit for younger children.

I would rather see a learning stations approach to the VBS curriculum. The classroom setting is not used by most churches and leaves churches looking for learning station curriculum more likely to "pass" on what is a solid curriculum resource as it is a lot of work to pull from this curriculum to get the station material. A Bible station book - which I'd use grades 1 & 2 this year as their lessons are most engaging - would be an excellent addition.

Lessons which engage children. Grades 1 & 2 lessons are engaging day one and three, but most of the other lessons are minimally engaging. I would use this resource, but would absolutely have to re-work the lessons to be more engaging.

The Opening and Close is not included in the starter kits. It is in the Worship Rally resource, which is purchased on its own - $42.99 for the Worship Rally Pack.

The Director's book is not in the starter kit - it is in the Jump Start kit - which is purchased on its own.

I'd like to see a complete kit - preschool, elementary, director's information and opening/close all in one kit. With them spread out the price really adds up. Having main and necessary components spread out between different kits/resources is frustrating and confusing - it does not need to be. I understand there may be some churches which just want teacher's material, but most churches need the essentials - one kit with all the essentials would be less confusing and easier to understand what it costs to get what you need.
LifeWay says, "
Revealing Jesus through every aspect of VBS, LifeWay's gospel-centered and expert-vetted VBS prepares your leaders with trustworthy Bible-teaching. Your kids will have a blast while every activity, Bible lesson, and song points them to Jesus.
Kids go from bewildered to believing as they get In The Wild at this summer's VBS.
"

I found
In the Wild
to be a solid VBS resource with a focus on evangelism with solid Bible teaching. This VBS is an excellent resource - great for back-yard Bible clubs, Teen mission outreach opportunities, spread out over the year for special family events or mid-week and would be a lot of fun on Sundays in the Summer as well! Take a good look at
In the Wild
to see how it might be a good "fit" for your ministry - it is well worth the time to do so!