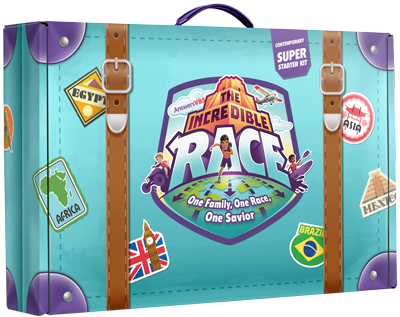 I'm happy to say Answers in Genesis' 2019
VBS arrived at my house the other day, so today I'm sharing it with you. The Incredible Race is the setting/theme with a focus upon one family, one race, one Savior
- take
a close
look at to see if it is a good "fit" for your ministry.
The Incredible Race
https://answersingenesis.org/vbs/2019/


Ready, Set, Go - Before Babel - South America - Genesis 1-11

Hitting a Roadblock - At Babel - Asia - Genesis 11:1-9

One Race, Many Nations - After Babel - Africa - Selected Passages

One Way - Jesus - Babel and the Gospel - Europe - Revelation 7:9, 10

Green Light - Go - Why Babel Matters Today - North America - Luke 10:25-37
Setting – A race around the world
Message - "Join The Incredible Race and experience God's love for every tribe, language and nation!"
Focus – Evangelism, Content
Price - Basic Starter Kit - $99; Super Starter Kit - $189; Super Starter Kit with Digital - $288.

Strengths –
As I would expect, The Incredible Race has a strong emphasis on teaching the infallibility of the Bible and salvation through Jesus!

I'm very happy to see children opening and reading the Bible during the Bible event.

I'm also very happy to see AIG use the terminology, "Bible account" instead of, "Bible story"

I absolutely love the "Go and Do" portion of each lesson where children have specific things to go and do to live what they learned!
The director's info is very complete and full of extra information, tips and trivia - love the 20 Tips for the VBS Director!

I LOVE the science projects included in the craft time - children will love these!

The Contest portion of the closing is fun – sure to generate enthusiasm!

Music is available again this year with a Contemporary or Traditional sound giving churches options

The "Terrific Trivia Tidbits" are great fun!

I'm very happy to see a basic kit option, so churches on a limited budget are able to make this work for them, too!

I'm happy to see more engagement of the children in the lessons!

I love the Creature Feature portion of the Closing
Would like to see –
Ideas to help children serve in their own communities.

Not a big fan of the puppet portion for each day's Bible lesson.

A Bible lesson book for multi-ages – this would make things easier for churches where they do not use a classroom teaching model for the Bible lessons. If you use a learning station format, I'd use the Primary Teacher's Book for the lessons and activities.
Answers in Genesis says; "Children will discover no matter where we live, what shade of skin we have or what language we speak, we are all part of the same race - the human race - and all part of the same family from Adam and Eve. As they examine the events surrounding the tower of Babel, children will learn God is calling people from every tribe and nation through His Son, Jesus Christ, the Savior of the world. And He wants us to share this good news in kindness and love with our neighbors nearby and far away.
"

The Incredible Race is an effective resource for VBS - one which will impact and reach children and families for Jesus; and help them understand the truth about how God designed, made and loves everyone. You may also want to look at The Incredible Race as a resource you could use for mid-week ministry . . . Answers in Genesis offers their materials past the end of the summer, so you would still be able to find the components you need.