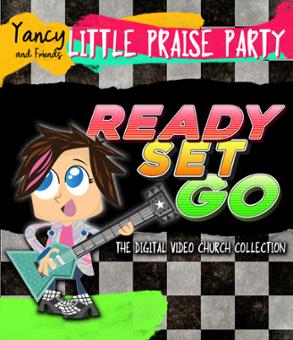 I was recently invited by Yancy to take a look at her new music
resource - Little Praise Party, and today I'm delighted to let you know about it.
Little Praise Party: Ready, Set, Go Church Bundle
Ages - Preschool & Early Elementary
Available at -
Yancyministries.com/readysetgo
This resource includes . . .
Eight new songs for year round worship and singalong fun including a songs for Easter, Mother's Day & Christmas. Songs include:
Ready, Set, Go

As For Me

Made In the Image

Hungry and Thirsty feat. Funny Man Dan

Hungry and Thirsty

He's Alive, He's Alive (Easter)

I Love My Mom (Mother's Day)

Not About the Weather (Christmas)
USB & DVD Bundle includes:
Cartoon Music Videos that features lyric line across the bottom of the screen.

Audio in 3 formats (Full mix, Sound track and Split Track files)

Group Viewing

Permissions
Yancy says it is; "
A Super-Sized NEW Worship Resource For Young Children. This beloved music is perfect for preschool and early elementary grades. Each song is filled with the right bite-size piece of lyric, melody and repetition.
Little Praise Party is about inviting young hearts to a relationship with Jesus by beginning a foundation of theology through the discipline of worship. Yancy wrote these songs and crafted these arrangements with an intentional focus to this phase of life.
Little Praise Party is filled with songs kids love and adults value!
"
I appreciate the colorful animation - sure to get the attention of the children, simple, but powerful lyrics, and how everything adds fun to getting children to sing and learn about God. This is an excellent resource to add to any church's ministry to young children. Check out the music clip video at this link.